We are helping adults with intellectual disabilities who live in our homes to lead happy, fulfilling lives that would otherwise be out of reach every day.
A UNIQUE MODEL OF CARE
The daily routines of people with intellectual disabilities that live in L'Arche homes are much like those of every adult that works, volunteers, is active in their community, pursues leisure activities, enjoys downtime, and maintains long-lasting friendships. L'Arche makes this possible, not just for a few months or years, but for the lifetime of each individual.
The unique live-in model of care, where the assistants and people with intellectual disabilities live together in homes, sharing life, allows for such moments as the joy of gathering together at the dinner table as family.
OUR HOMES PROVIDE
Mutually-transforming relationships for residents, assistants, volunteers, and friends. Coordinated, personalized healthcare. Demonstrated positive change in the lives of those with intellectual disabilities. Measurably higher quality of life for those with intellectual disabilities than before they lived with L'Arche. A space for self-determination.
INTEGRATED INTO OUR NEIGHBORHOODS
Each person with an intellectual disability has opportunities to be integrated and engaged members of their neighborhood.
They work and volunteer locally. They are supported to participate in their church communities, to belong to the gym and simply live as active members of the Oak Park/River Forest community.
Each individual also has personalized work options. Together we identify work goals and put in place the necessary support for individuals to work where they would like.
WORKING TOGETHER WITH THOSE IN OUR COMMUNITY
As a community of faith, L'Arche supports attendance and participation in each resident's church, temple, mosque, etc. of choice. Neighborhood faith communities are made stronger by the gifts and participation of individuals with intellectual disabilities.
We also develop innovative and collaborative partnershipswith universities and medical schools in the Chicago area, training students to work with people with disabilities and giving residents a voice in these relationships.
A GLOBAL MOVEMENT
We provide financial support to under-resourced communities in developing parts of the world to provide basic necessities like housing, food and medicine, and staff salaries.
We send our uniquely trained alumni staff assistants to enter fields such as medicine, law, and social work after their time in L'Arche where they positively impact the world through their experiences living with and learning from people who are often marginalized.
Ready to Take the Next Step?
L'Arche Chicago welcomes adults with intellectual disabilities (core members) who require a broad range of supports. We do not discriminate based on cultural, religious, or financial background. Please be aware that openings tend to be infrequent as most core members decide to live in L'Arche for life.
Learn more our selection process and complete our inquiry form to express interest below.
Our Process
Learn about the mission of L'Arche by attending Community Night and reaching out with questions.
Ensure Medicaid Waiver eligibility from the State of Illinois.
Complete the L'Arche Chicago Inquiry Form. The inquiry form is not an application, nor does L'Arche have a first-come-first-served waiting list, but in the case of an opening, L'Arche will use this list to contact you.
How L'Arche Chicago group homes are unique
L'Arche Chicago recognizes that it cannot meet the need for housing in Illinois alone. L'Arche Chicago is proud to work alongside other providers and advocates in Illinois to reveal the gifts of and improve the quality of life for all people with intellectual disabilities.
L'Arche has given Chris a home, friendship, love, and community. It has given our family a sense of peace
Parent
L'Arche Chicago
My husband John and I have had the fortune of living across the street from L'Arche. We've enjoyed countless memories shared with the residents.
Neighbor
L'Arche Chicago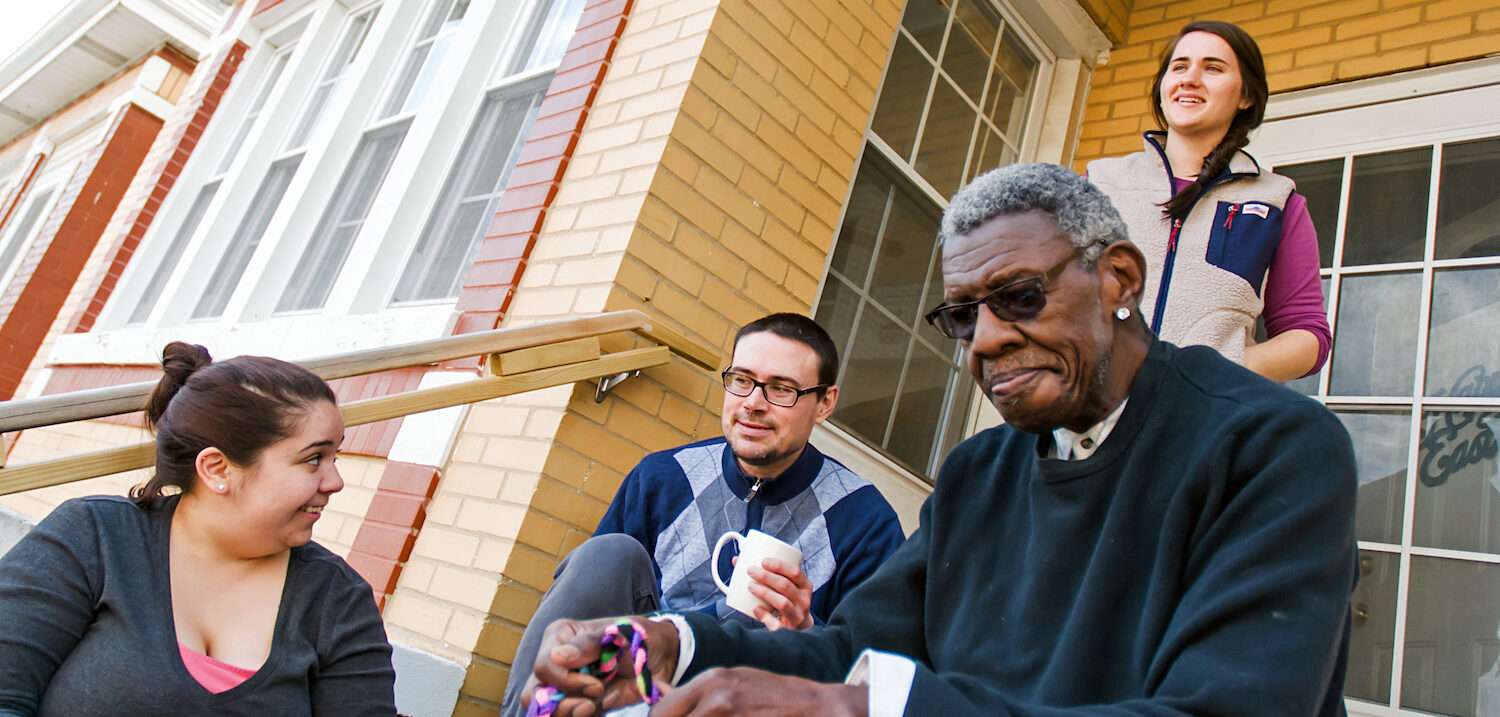 Begin theJourney
Start the journey of becoming a core member at L'Arche Chicago by submitting an inquiry form to our team.
Complete our Inquiry Form